Soooo, this is my contribution to the tin-foil-hattery, i have decided to put this up here as i have been exploring for 2 days now and found absolutely nothing
:'(
Im presuming that pretty much all of you are familiar with the map you can decode with a spectral analyiser from the audio clip that plays when you activate the thargoid map room site (if not, heres a cleaned up copy of it), well its this annoying map ive been trying to crack.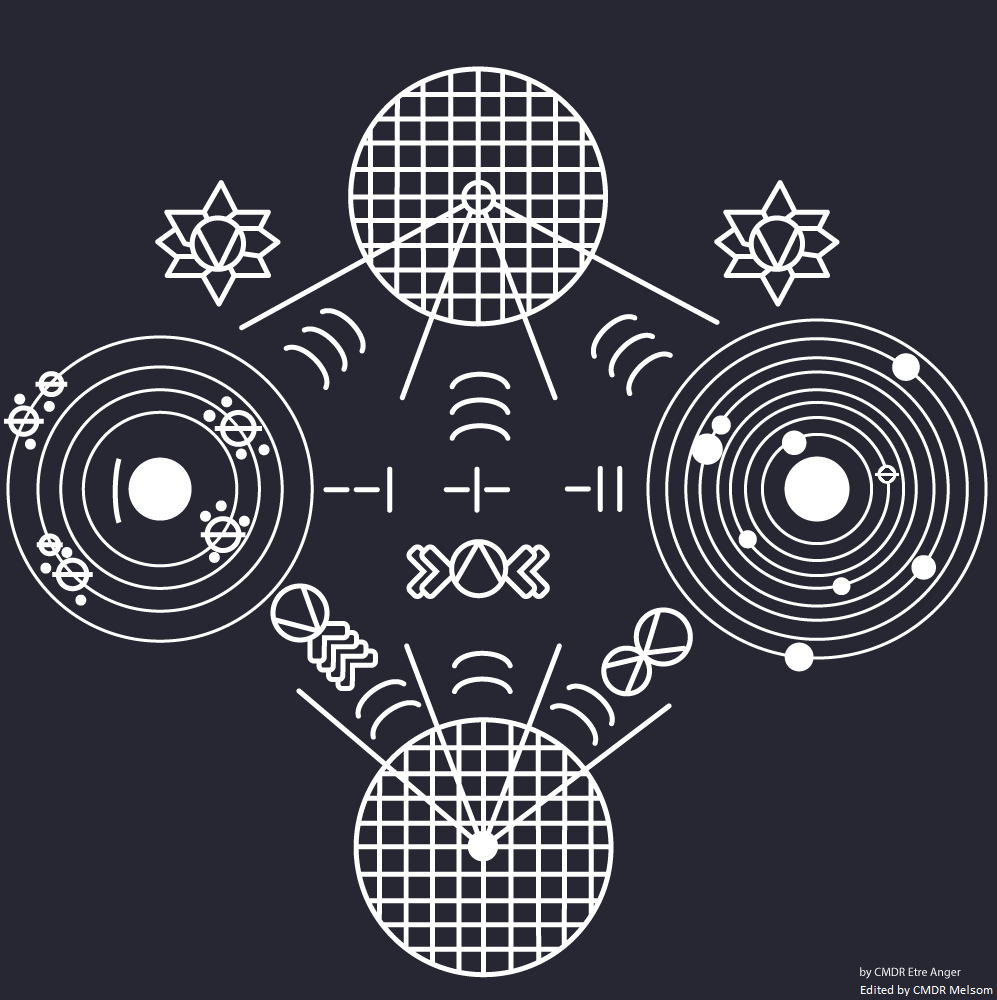 So, my whole theory about this is that it is some sort of quadratic map, the community has already pretty much confirmed that the stsyem map on the left hand side is the Star system Merope, and I am assuming that due to the presence of the 3 thargoid devices (yes i know they have different names but oh well
) above the bottom mesh sphere that this represents the System HIP 14909 where the map room is located.
the three groupings of dashes (-) and lines (I) seem to me to be Binary code for the numbers 1, 2, and 3, group 1 being 001 or the number 1, Group 2 being 010 or the number 2, and Group 3 being 011 or the number 3.
This is where things get a bit convoluted...
I am assuming that 123 refers to a distance in light years between each of the four points of a quadratic map, however the distance between Merope and HIP 14909 is exactly 111.29Ly... this got me thinking.... so our measurement of a Light Year is based on the time it takes OUR home planet to orbit OUR sun right? meaning that a thargoids measurement of a light year would be totally different!
So, assuming this is the case, the unknown star systems would both be approximately 111.29Ly away from either Merope or HIP 14909, forming a square with nearly equidistant points.
The main problem i have been having is that there is no database that includes unscanned or undiscovered systems for me to cross-reference with so i am having to literally fly around each known star system scanning everything between 110 and 124 light years (just to be sure) distant from it and hope i either find a match for the unknown system map, or presumably bump into some thargoids and get my face corroded off.
Im on my second day of system checking and the total boredom of flying thousands of light years in a giant circle 250LY wide is starting to get to me (surprise there lol XD)
I was hoping we could organise a kind of mass scanning and astrometric mission to at least give my theory a go, theres a hell of a lot of unknown systems within that proverbial drag net and it would take me a hell of a long time to go through each system alone.
Happy Flying Commanders, i hope this is at least a bit intriguing