Disclaimer 1: This tool is in no way related to Robert Maynards StatusDisplay, beyond the fact that I obviously got my inspiration from there
Disclaimer 2: I'm not entirely sure if that's the right section of the forum. Its a definitly a tool, it contains software.... but its not entirely software. If some moderator feels this doesn't belong here, feel free to move it (wasn't there a hardware forum once?)
Disclaimer 3: The whole thing was planned, build, assembled, soldered and wired by me. Every single line of code was written by me. Even though I obviously copied some lines from some sort of documentation.
Introduction:
I was always a fan of eighties style cockpits, big chrome switches and blinking lights. I'm also a big fan of having a fixed placed for every important information, instead of clicking trough 3 sub-menues. And I was looking for some new diy-project to keep me busy...
So I build this here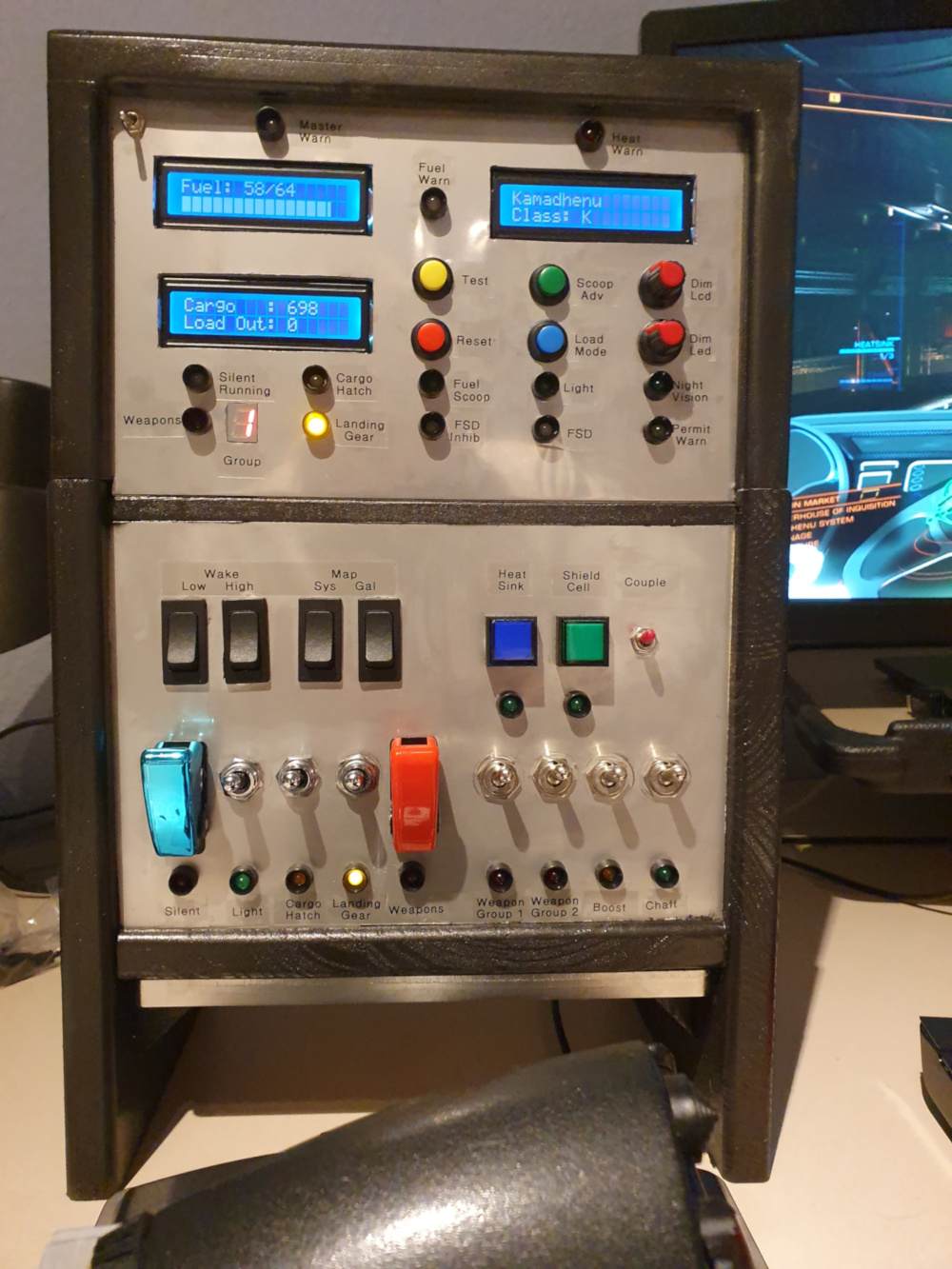 The upper one, not the lower one. The lower one is the input panel I've build years ago. Technicaly its just a USB-keyboard with different switches attached to it and some relais to run the leds.
The upper one is a status display pannel, run by an Arduino Mega 2560, connected via usb to my gaming rig, that receives status information from the journal and the status.json.
I can upload the code if anyone is interested, but please be aware that building that thing takes some time. Longerer than writing the code.
Features:
Power: Obviously the power switch
Master Warn: Yellow/Red/Red-Blinking: Indicates all sort of bad stuff happening. From low fuel, heat damage, interdictions, under attack to the ominous 'IsInDanger' and many others
Heat Warn: Red Blinking: >100% Heat. I'd love to have a yellow and red alarm, but I don't think thats in the files
Fuel Dislplay: Displays Fuel as number/maxnumber as well as a bar-graph (I thought about an analog fuel gauge, but that might be a bit too retro)
Fuel Warn: Yellow/Red/Red Blinking: Shows fuel level below 25/10/5%
System Display: Shows system name and star class
Cargo Display: Shows amount of cargo on board, as well as either unloaded or loaded cargo in this system (-->see 'Cargo Mode')
Test: Lights up everything, very festive
Scoop Adv(isor): Lights up the -->'Fuel Scoop' light if in super cruise around a scoopable star
Reset: Hard Resets the board. Once everything is done, will be switched to 'reset alarms' (stop blinking, dammit)
Load Mode: Switches the -->Cargo Display between loaded and unloaded cargo
Dim LCD/LED: Dimms the LCDs and LEds
Silent Running: Blinking Red/Blue:Silent Running
Weapons: Red: Hardpoints deployed
Group: Weapon Group
Cargo Hatch: Yellow: Take a guess
Landing Gear: Yellow: Landing gear
Fuel Scoop: Green/Green blinking: Lights up green in super cruise around a scoopable star if -->'ScoopAdv' is on, blinks green during scooping
FSD Inhib(ited): Yellow: Masslock/Cooldown
Light: Green: Lights on
FSD: Green/Blue: Green if available; Blue if running; Blinking Blue/green if charging
Night Vision: Green: What do you think?
Permit Warn: Yellow Blink: Light up after entering the no fire zone until a landing permit has been granted (or until fsd is engaged again). Keeps me from forgetting to ask for a permit
I'll post some technical details later