Are you noticing it? The bubble is heating up, and feels increasingly crowded. As a diplomat for the Alliance I see a rise in conflicts and potential for conflicts between player groups. Where a year or more such conflicts were rare, the frequency has gone up and now it seems every week some major conflict is about to kick off... What is going on?
There are now (as per Dec 18, 2017, per
FDev message
) 923 recognized PMFs in the game (it says 924 but seems Brett C has counted a header row? details), about a third of which were inserted into the galaxy since end of July last year, with a big batch in August.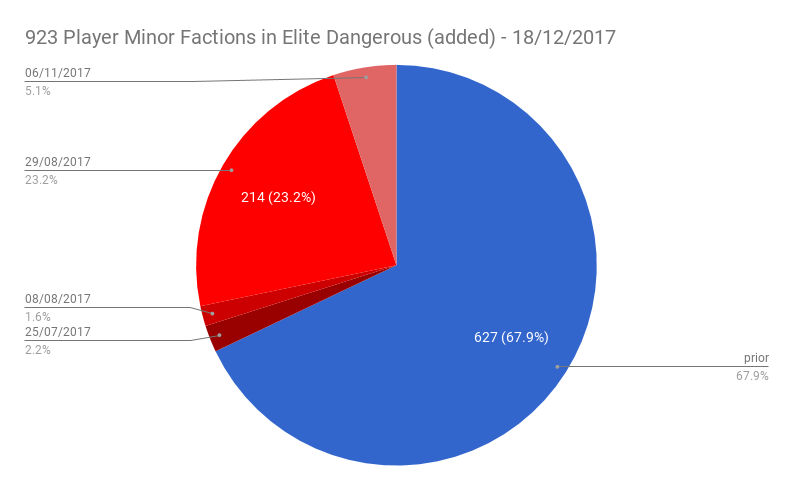 It's getting pretty busy, and this doesn't even count the rejections mentions in the thread this information comes from, many of which are because the system is already deemed full. (source:
https://forums.frontier.co.uk/showt...inor-Factions-Submission-Form-and-Information
)
As a player group, we have struggled with this. We have operations over a wide area, and have often suddenly seen PMFs inserted into the region. At time with allegiances and government types that don't remotely match the area. We try to work around them, but that's not always possible, and it leads to awkward discussions and possible conflict when both claim similar territory. In the past it was quite easy to come to agreement. This is getting harder. Not least because it is often not really clear how to get in touch, or whether the faction is being worked at all.
You can see that for an active BGS group it is often difficult to understand whether a PMF is actively being supported or is simply a vanity project to get something named in the game. Out of 809 listed PMFs on eddb.io, the picture is bleak.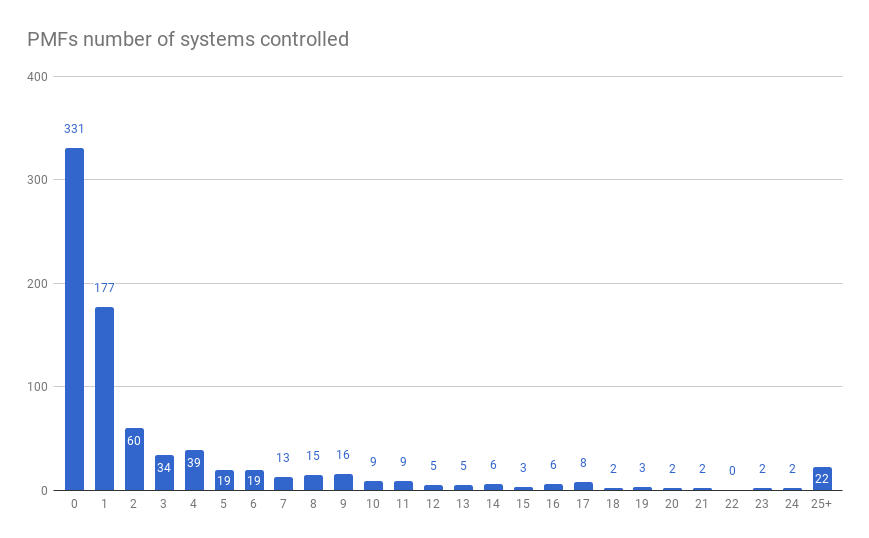 Just under 41% of PMF do not control a single system. 62.8%, almost 2/3rd of PMFS rule one or none. Meanwhile, those 22 factions (top 2.7%) all the way at the right of the chart of 25 or more systems controlled, collectively rule 688 systems. The bottom 666 PMFs (82.3%) control 686 systems.
Last edited: