The Collection on my Workshop :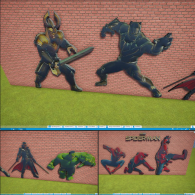 Steam Workshop: Planet Coaster. Posters and Signs and Ride Advertising. Superheros such as Spiderman, Blade, Black Panther, Hulk, Harry Potter. Wild West Wanted Posters
steamcommunity.com
Collection includes :
Black Panther, Hulk, Spiderman, Ironman, Joker, Batman, Thanos, Juggernaut, Twister, various Wanted Posters for Westerns and Harry Potter, Backdraft etc...
Loads more and constantly being added to
Workshop :